This is the story of Ann and Biff, a journey through the sinister world of romance scams. Learn how the art of criminal seduction works.
---
This is the story of Ann and Biff, a journey through the sinister world of romance scams. Learn how the art of criminal seduction works. 'Maybe I'm already falling in love with you?' 
Meet Ann. She is a 65-year-old widow from London, who lost her husband to cancer a few years ago. He owned a successful painting and decorating business that Ann sold a few months ago. She has one son, who turned 40 last year, but no longer lives nearby. Ann owns a five-bedroom house on the outskirts of South London, as well as two luxury cars. Here is the catch about Ann — she is a completely fictional character the Norton Labs created.
Romance scams involve someone being tricked into believing they are in a relationship with someone they met online, but that person is a scammer with the intention of building trust with the victim to gain access to money. And a lot of money. According to the FTC, victims lost $304 million to romance scammers in 2020. 
To better understand romance scammers, we created Ann and made up her circumstances to make her an attractive target for would-be scammers. And attractive she was. Five minutes after registering Ann on a popular online dating site, she received her first message from a guy whose profile name was "crazyforyourmoney." We inspected his profile.
Sizing up "crazyforyourmoney" 
As you can see below, there are two pictures supposedly of a 53-year-old man from London. He claimed to be divorced, self-employed, and hoping to find his "dear soulmate." We've changed his alias to Biff, throughout the account below.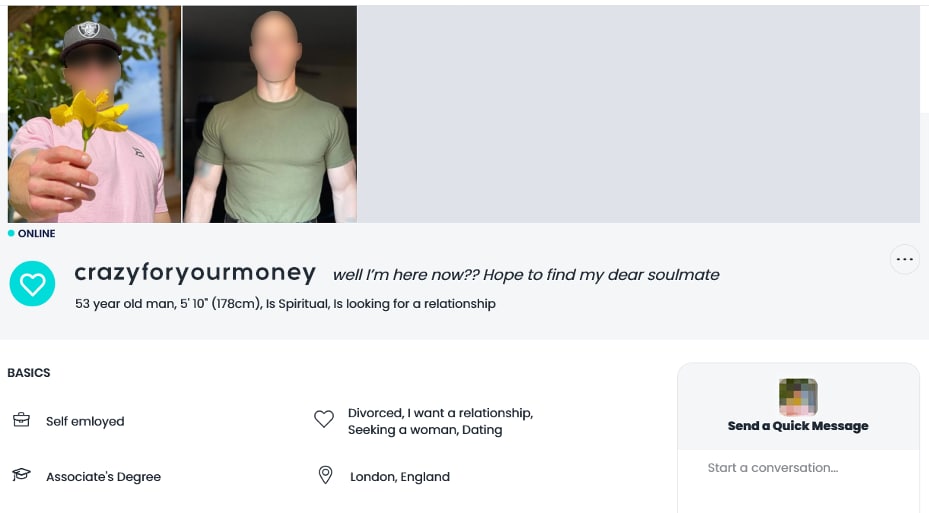 We used the two pictures to perform a reverse image search. We found that the images appeared on several dating websites under multiple different aliases. The image below shows an example of our search results.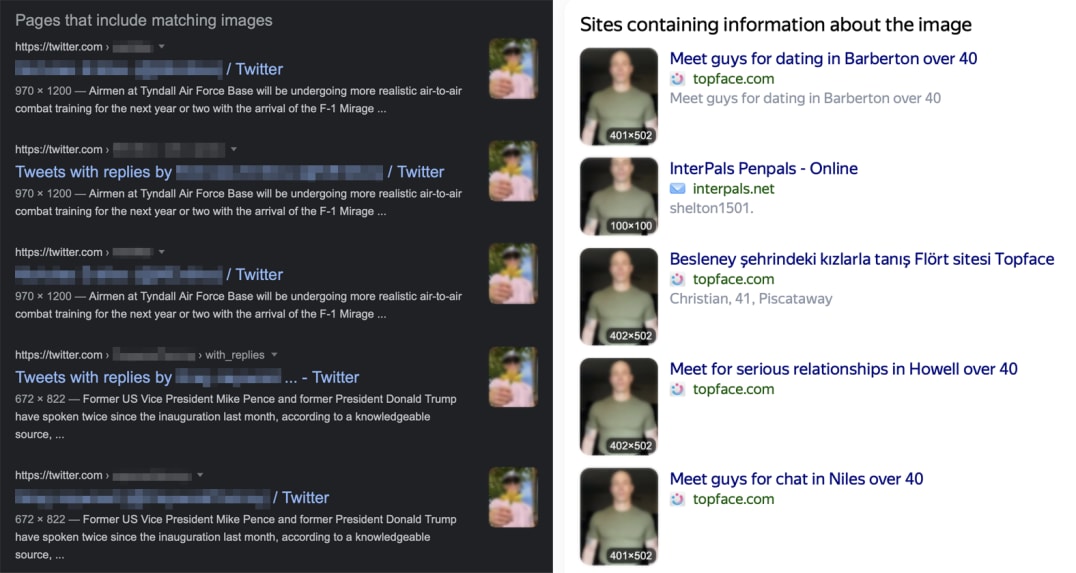 Our conclusion? We were confident that this was the profile of a scammer. We responded to the private message. 
Getting to know the scammer 
We exchanged a handful of messages before he suggested continuing the conversation over email. Scammers prefer to take the conversation off the dating website to instant messaging platforms as soon as possible, because they know their time on a dating site is limited. Once a dating profile gets reported and is assumed to be used as part of a fraud, dating websites typically do a respectable job of deleting it.
Ann agreed to move this conversation to email, and we exchanged email addresses. Below you can see the conversation with the scammer on the dating website in its entirety.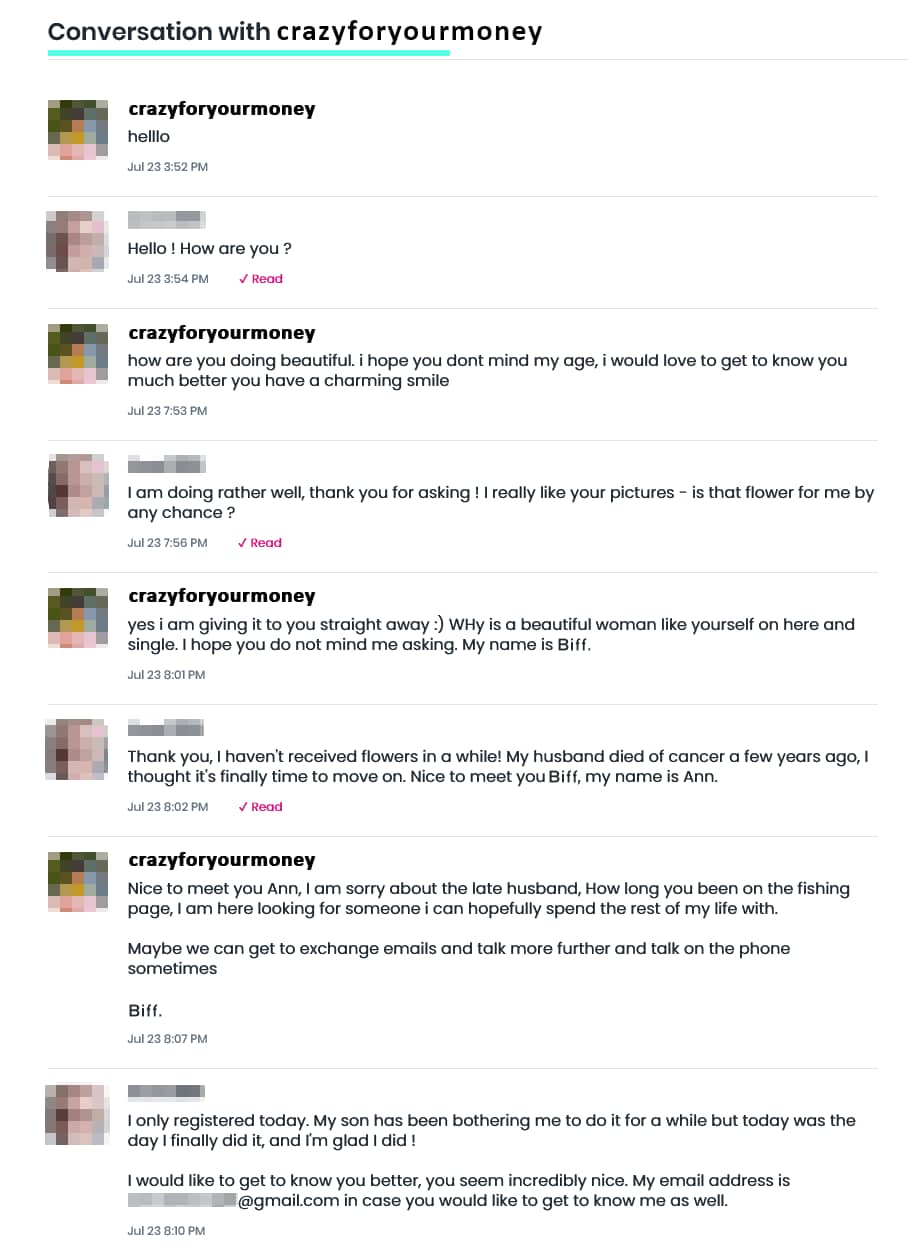 Half an hour later, we received our first email from Biff. He introduced himself as a 54-year-old man — notice the age change — from London, who is a "lovable person, a free spirit who believes in the World and the Universe." He continued, "I would like to believe that I see myself as a mini-God."
Biff builds trust, but details change 
Biff shared a lot of personal information in his first email as a way to build trust.
He went on to say that his father was from South Africa and his mother was from the United Kingdom, but he grew up in the United States. He served as a U.S. Marine, but now works as a professional trader.
Biff has two kids — a son who is 9 years old and a daughter who is 5 — and we later found out that those kids are currently with a nanny in the United States.
Biff attached a couple of pictures, one of which is below.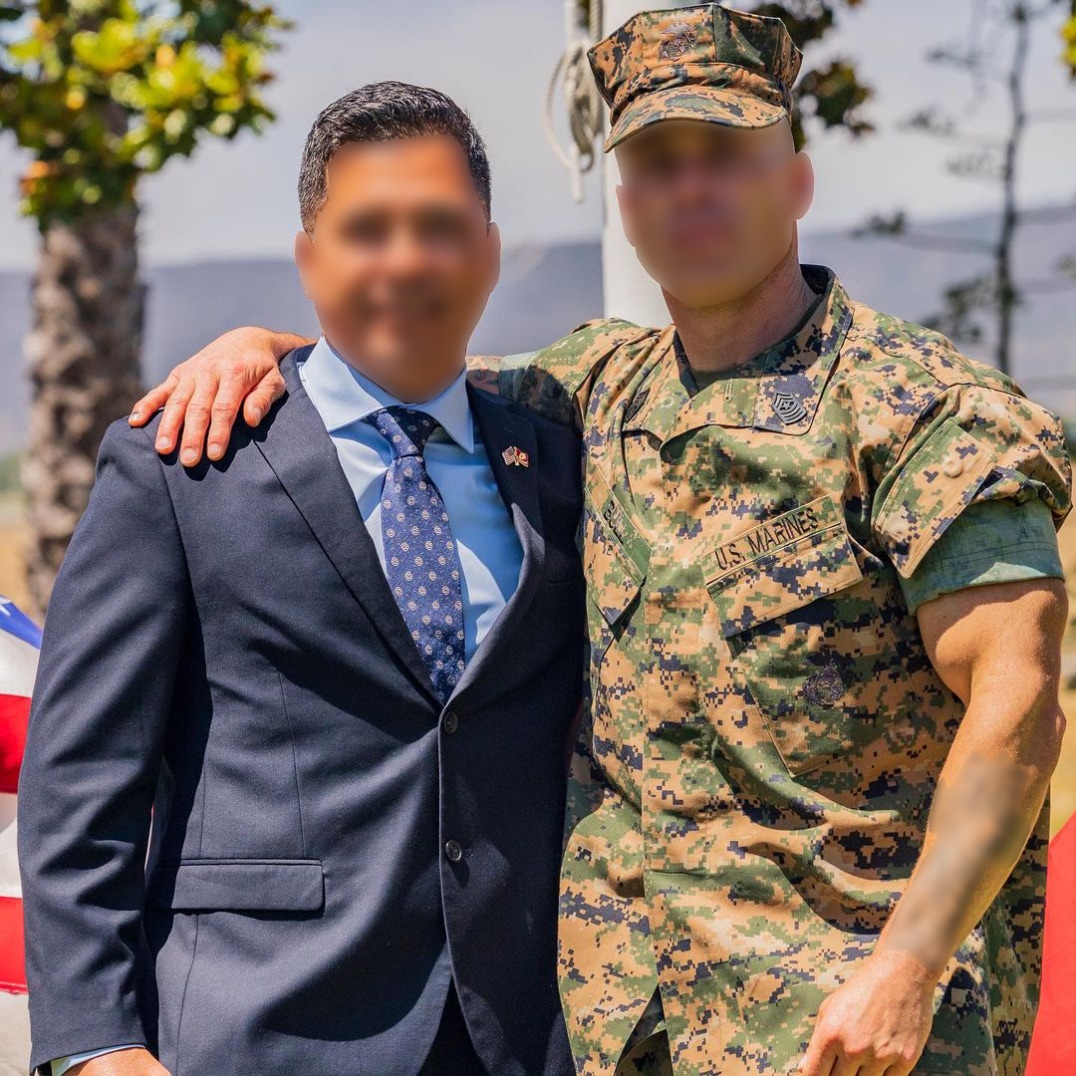 Biff s dating profile said that he was 53 years old and divorced. But in his email, his age changed to 54, and his wife died of cancer five years ago. So what is happening here?
Scammers often change their story to match yours to gain empathy and trust. The scammer read Ann's profile and saw that she was recently widowed and changed his narrative to cultivate common ground and build connection. 
We exchanged a lot of emails in the days after the initial contact. Biff wrote he is currently "in the city called Capetown," because "his goods are on lockdown due to COVID-19." And he must make sure that he gets them before he can leave the country. He never actually specified what those goods were, but he later mentions that they are worth $3.6 million. This is an early warning, but we'll get to that later.
Ann told him how lonely she was in her big house, and she continued to share more of her life story. This illustrated to the scammer that she was a worthy target.
Shortly after, Biff asked to move the conversation from email to Skype to see each other. He constantly flattered Ann with his compliments and emojis, and she agreed to a video chat.
Trouble in the relationship? 
Ann was nervous, because she anticipated that he would notice something strange about her — after all, Ann does not exist. We used a voice changer that was supposed to make our voice sound female, but we thought it sounded like a robot instead.
Biff was disappointed to see that Ann's camera wasn't switched on. Ann told him that she had never used Skype before and wasn't sure how to switch it on, but she offered to call her son for technical help. As soon as she mentioned that, Biff insisted that she should not tell to her son about him under any circumstance – another red flag.
Here's why. Romance scammers use this isolation technique frequently to ensure that your friends and family are not able to warn you that you're talking to a scammer. 
Biff turns on the video 
The picture below is a screenshot of our Skype video call with Biff.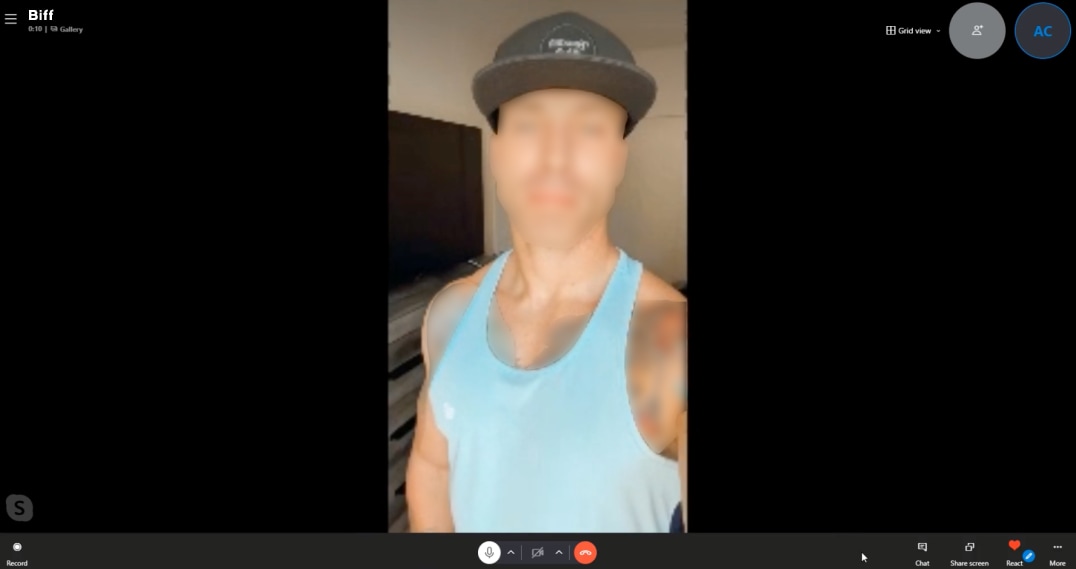 Expecting Biff to make up technical issues about his webcam, Ann was surprised when he turned it on. As you can see above, the guy in the video appears to be the same as the pictures. For most people, this would be proof enough that they are talking to a real person and not a scammer. 
But here's the trick. The scammer replaced his webcam feed with a video he downloaded from the social mediaaccount of the guy whose pictures he used. The scammer tried to only speak when he could lip sync with the guy in the video, but it was easy to tell that something was wrong.
Before Ann could point it out, Biff was quick to say there could be a slight delay due to his poor connectivity in Cape Town. Soon, he got annoyed, because Ann couldn't get her camera to work, and hung up on her.
Getting to know Ann financially and secretly
The conversation continued via email and Skype chat where Biff continued to gauge whether Ann was a worthy target by asking personal questions around her finances. 
Biff also kept reminding her to keep the conversations between them a secret, and he got angry anytime Ann would mention her son. At one point he even suggested that Ann should limit the contact she has with her son because he is "not good for her." 
Biff excelled at complimenting Ann in his emails, and he knew exactly what to say that would make Ann fall for him. 
Biff's words of love 
Here are a few examples from emails Biff sent to Ann. 


Biff mixes business with pleasure 
In his first email, Biff mentioned he was away on a business trip in South Africa, and in every email afterward, he provided more information to Ann about the issues his business faced, including in the example below. 



The scammer tells Ann that he can be with her, the person he loves so very much, as soon as he can wrap up his business there. The issues with his goods are becoming more complicated every day, and eventually, he asked Ann for help during an evening chat on Skype.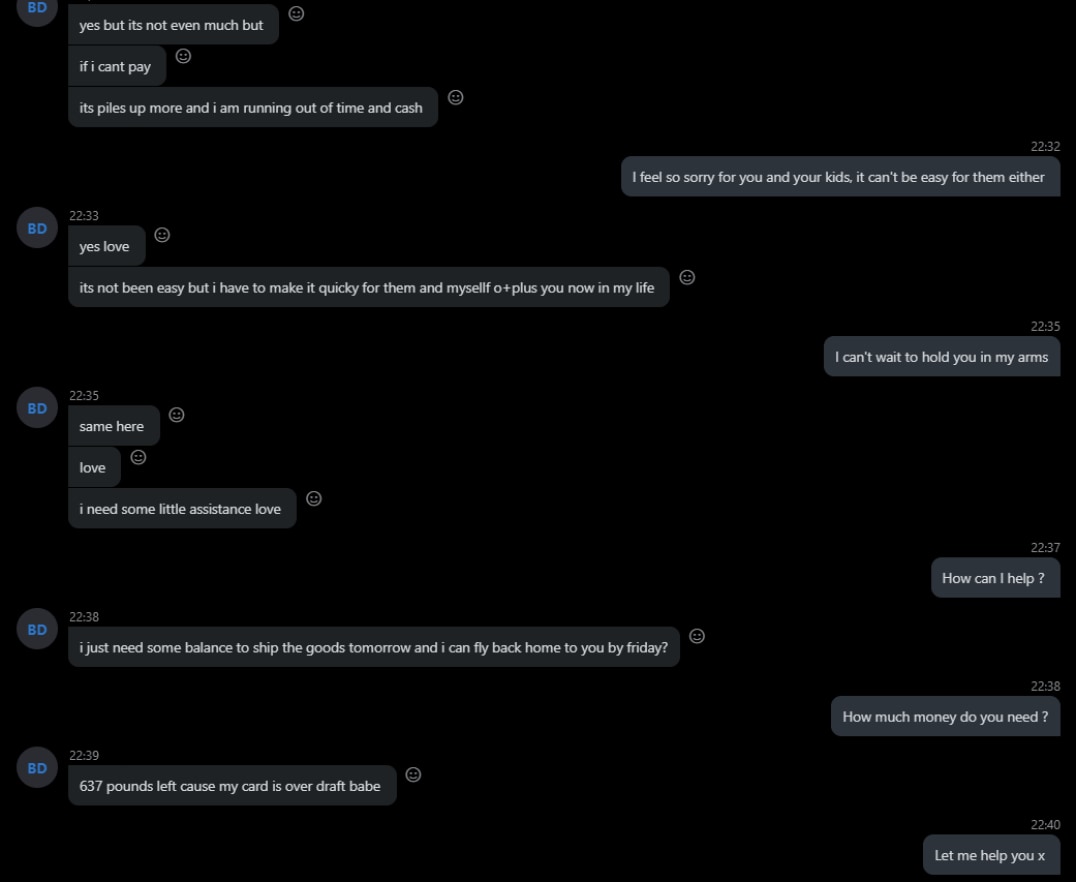 Biff started the conversation by saying that he is getting stressed about the goods, that the money he owes increases every day, and that he must go back to see his kids and Ann. Biff eventually asked for "some little assistance." 
At this stage, Ann has fallen for the scammer and is willing to help him out.
Biff goes for the money 
At first, Biff asked for a relatively small amount of money – £637 – and he provided bank details for his "agent" Caroline H.
Ann told Biff that she made an instant bank transfer, but when the money didn't arrive after an hour, he provided us with different bank details — this time for his other "agent" Gabrielle J.
Ann told him that she made an instant transfer to Gabrielle's account, this time for £700, to avoid being detected by her bank's fraud team for sending the same amount of money twice in a short time.
After Biff realised that the second transfer didn't reach Gabrielle's account, he demanded proof of payment. 
We created a bank statement for Ann that she used to prove to Biff that the money had left her account both times. We also made sure that the statement showed a significant amount of money in her current account, as well as income from her pension.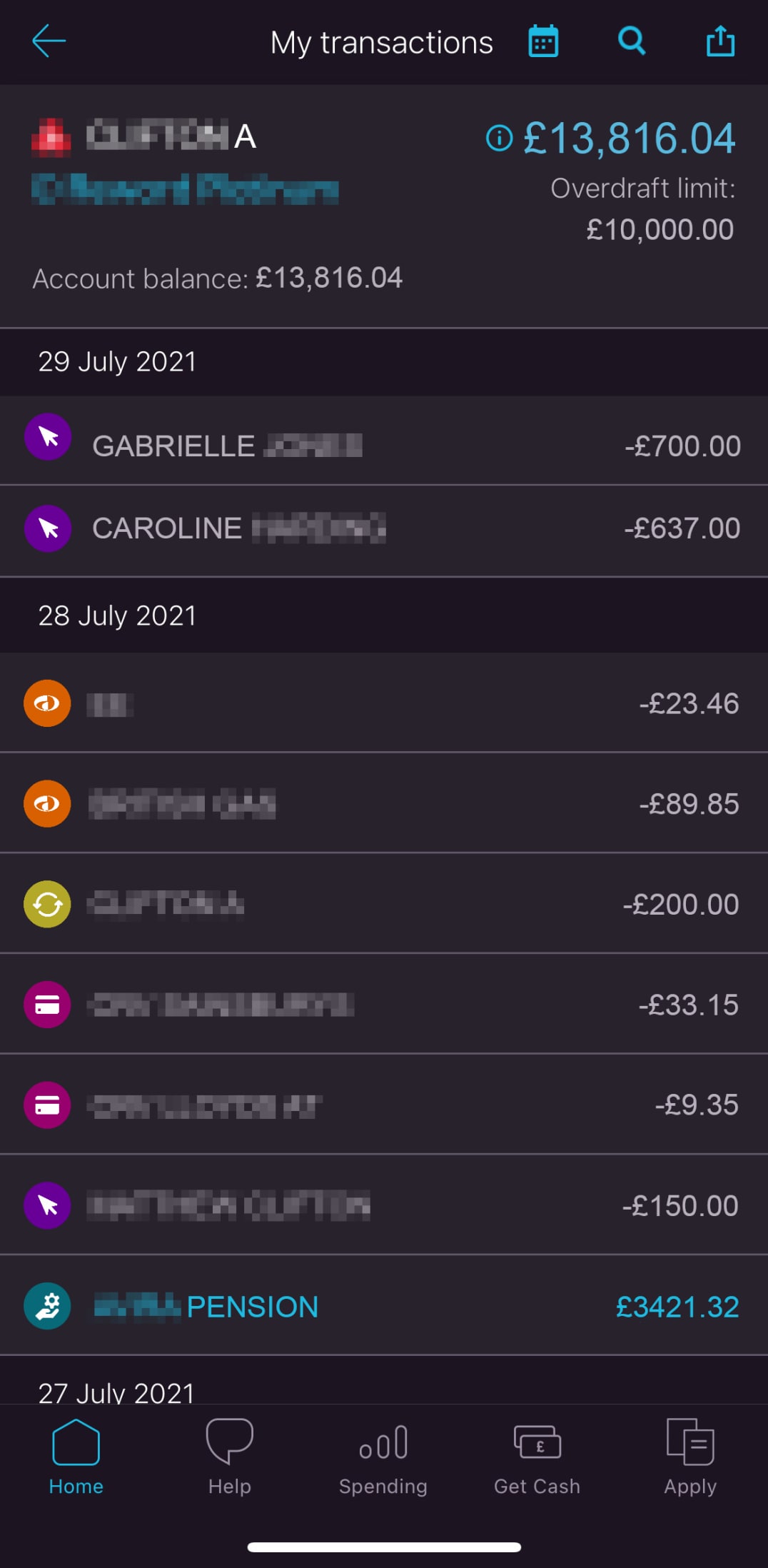 We drafted an email to Biff that included a link to the proof of payment picture, but that link also served as an IP grabber. We knew that we would be able to see his IP address as soon as he clicked on the link, and we didn't have to wait long. A few minutes after Ann sent the email, the website updated and we saw his IP address, as shown below.   

We verified that this IP address does not belong to a VPN or proxy, a service which masquerades the true IP address of the scammer. The person who clicked on the link in the email was in the United States.
Dialing for dollars, Biff gets recorded 
Biff became agitated that neither of the transfers worked and called Ann on Skype. We got our voice changer ready and answered the call, but to our surprise, the scammer did not realise that we joined the call.
Biff grew angrier because he believed we didn't pick up the call. Using the Skype chat, he became emotionally manipulative. He hinted that Ann may be too stupid to make bank transfers. Biff kept making Ann feel bad, saying that this is all her fault and that she is to blame if he can't see his kids again.
Naturally, Ann apologised and asked if there was another way to send money. And sure enough, Biff obliged and provided a new set of bank details for his friend Arlyn G. But this time he asked Ann to make a cash deposit directly into the account.
Ann agreed, but told Biff that she couldn't make a cash deposit into someone else's account without knowing more information. She said that the bank manager would at least need the full address of the account holder.
To her surprise, Biff provided the address of his friend Arlyn but instructed Ann to go to a different branch to make the deposit again. Before Ann went to bank, Biff provided bank details of another friend, Suzanne K., and asked Ann to go to that bank instead.
Ann made up a story that she couldn't make the deposit as the bank manager informed her that the bank account of Suzanne K. was monitored for suspected fraud.
We wanted to see how the scammer would react to this, so Ann explained the situation to him and mentioned  That he should be careful if his friends are being investigated for fraud. 
And as we suspected, Biff became angry and told Ann that she had to fix this by calling up the bank and the police. Surprisingly, though, he was still keen on getting money from Ann and provided a fifth set of bank details, this time for his friend Thamsanqa G.
We again created a proof of payment for Ann to send to Biff via email, embedding an IP logger. To no surprise, the scammer opened the link shortly afterward, and we verified that it was the same IP address as before.  
At this time, the scammer probably realised that he was never going to get any money from Ann. He stopped responding to emails, Skype messages, and calls.
Relationship over. We provided all details to Action Fraud UK.
The world of romance scams + lessons from Ann and Biff 
Ann and Biff's relationship ended abruptly, but it leaves lessons behind, especially as romance scammers expand their tactics.
You can find out more about romance scams in 2022, including online dating scam statistics, but here are a few facts worth noting. 
Online daters who look for love between Christmas and Valentine's Day are most susceptible to romance fraud, according to the National Fraud Intelligence Bureau in the UK. 
Scammers prey on lonely and vulnerable people, often targeting recently widowed or divorced victims.
Romance scams have boomed during the COVID-19 pandemic, when many people feel lonely and isolated and look for companionship online.   
Dating websites are the No. 1 choice for scammers, but they also use online games and social media apps to find victims.        
Scammers buy, sell, and trade lists of names and contact details of victims that have fallen for romance scams. So-called "suckers lists" provide scammers a way to revictimize people, often years after the initial scam. 
7 romance-scam red flags you should know about 
The story of Ann and Biff includes warning signs for anyone who is active in online dating or thinking about taking the plunge. 
Here are red flags drawn from our experience of scamming the scammer, including examples and, we hope, our helpful comments. We cleaned up some of the scammer's punctuation, grammar, and spelling for readability. 
Red flag #1: Secrecy 
Your friends and family may warn you if they think you are talking to a scammer. Scammers know this, and that's why they ask you to keep your conversations secret. Many will tell you not to disclose to anyone that you are talking to them. 
Examples from the story of Ann and Biff:
"I am not sure what I would call these feelings. But like my father would say, 'When you're happy and enjoying something, keep it a secret to yourself because sometimes an outside energy could throw off your feelings.'"
Our comment:
The scammer mentioned this to us early in the conversation to ensure that we wouldn't tell anyone about this. Whenever we said that we wanted to get technical help from our son, Biff responded quickly to tell us that it isn't necessary, and we should under no circumstance bring it up with anyone.
Another example:
"Tell your bank you're making a deposit for something you are purchasing from a friend. Do not mention you are helping me because they would assume it's a scam." 
Our comment:
The scammer asked us to make a cash deposit at our bank, but we were told to lie about the deposit to not arouse suspicion.
Red flag #2: Loss and grief 
Scammers will often tell you that they have lost loved ones — for example, to cancer or, more recently, to COVID-19. They will also change their background story to mimic yours. Have you lost a loved one to cancer? Then it's likely the scammer has too. This is one of many techniques scammers use to gain empathy.
Example:
"I am single with 2 kids. I have a son born March 13, he is now 9 years old, and I have a daughter of 5 years old. Their mother died of cancer 5 years ago. So this is my reason for being single."
Our comment:
The scammer's dating profile mentioned he was divorced, and the kids are with his wife. After we told him that our husband died of cancer, he changed his story to match ours. 
Red flag #3: Working overseas 
Scammers have a job that takes them overseas, often as an engineer on an oil rig or a ship, a soldier serving abroad, or simply a businessperson who is about to close a deal that is worth millions of dollars.
Example:
"My father is from South Africa and is a USA citizen, and my mother is from the UK. I grew up in USA where I was a U.S. Marine. Both my parents passed away 7 years ago. But I spend most of my holidays in London before moving 3 years ago to UK. I am currently in South Africa on a business trip as we speak." 
Our comment:
The scammer told us in his first email that he is currently on a business trip in South Africa. During later conversations, we found out that he has been in Cape Town for three months and is about to close a business deal that is worth $3.6 million. When asked about his kids, he mentioned that his kids are with a nanny in the US — a little bit odd given the fact that he moved to London 3 years ago. 
Red flag #4: Financial Interest 
Scammers are interested in your finances because they want to ensure you are a worthy target. For example, they will ask you about your career, how much money you earn, whether you own a house or car. 
Example:
"I am sure there are great things more about you to share with me. I do not know what to ask. But I guess you could share more about yourself with me.         
Do you live in a house of your own?
How big is your house?
What car do you have?
How do you make a living?" 
Our comment:
The scammers quickly identify whether you're a good target for them. When they realise that you're a worthy target, they'll try even harder to manipulate you into complying. We received a lot of phone calls from our scammer after we told him we own a 5-bedroom property in London and two fancy cars.
Red flag #5: Demand for money
Scammers will make up elaborate stories for why they need money desperately. Often, they say that they can't access their bank account from abroad or that all their money and bank cards have been stolen.
Example — the setup:
"I have invested in buying goods for an overall amount of $3.6 million, and the people in whom I am reselling them to have been waiting on an update from me over the goods as well. I am just afraid that I have put almost all my investment into this and due to the circumstance of things there has been so much delay and so much  increase in charges as the stores constantly charging and there are still few clearance I need to do to ship them  out. Then I can fly home and resell them all to the clients and also be with you :)" 
Our comment:
The scammer is trying to give us as much information as possible about his business deal. He does that to set up  the inevitable demand for money. He mentions, as well, that he can be with us as soon as this problem is resolved. 
Example – the demand:
"Love. I need some little assistance love. I just need some balance to ship the goods tomorrow and I can fly back home to you by Friday? 637 pounds left cause my card is over draft babe."
Our comment:
The scammer uses sales technique called "foot in the door" where he is asking for a relatively small amount of money in hopes of gaining larger sums at a later stage. He mentions, again, that he will come home to us. This promise is often the reason why victims part with their money at this stage. 
Red flag #6: Feelings 
It doesn't take scammers long to tell you that you are the best thing that has ever happened to them, that you are the love of their life, and that they cannot live without you. This is often combined with a ridiculous number of love emojis.
Examples:
"I strongly believe that you're the best thing ever happened to me on that site. I do not know how we could have met. But I guess destiny is playing a role here if you believe." 
"I feel very blessed to have you and I want to also inform you that I have decided to take down my profile off the market and concentrate on us."
"You are cute, you leave me speechless, I believe you make me very happy, you'll make bad things seem not so bad. The thought of you astonishes me and brightens every aspect of my life. It's amazing that I've grown so attached in such a short amount of time. As much as I try to control, the feelings just keep blossoming rapidly and I don't want to lose that. Maybe I'm already falling in love with you? Crazy! but you are everything and more than what I have dreamed of my entire life. You would make me happier than the richest person in the world by the time and attention you give to me." 
"I know that they say absence makes the heart grow fonder. I go to bed with anticipation every night waiting for the moment I will meet you. I don't know this feeling — I have never experienced it. I want you by my side. I miss you more than words can say. I genuinely adore you." 
Our comment:
The scammer tells us on numerous occasions how much we mean to him, how much he adores us, and how much he loves us. He greets us in messages with "Hello Princess" or "Hello Sunshine" and always ends his messages with kiss emojis. The scammer knows how to play with our emotions, and he knows exactly what we want to hear. Unfortunately, once victims are this deep into the scam, financial loss and heartbreak will follow. 
Red flag #7: Pushy 
If the scammers suspect that you are suspicious because you're asking too many questions or you refuse to send money, they become pushy and try to push you emotionally.
Examples:
"I need you to call your bank. For whatever reason the two payments you made did not reflect? May I should ask when was the last time you transferred money from your bank to another. Maybe it's been a while since you did a bank transfer? You need to go into your bank to have these payments clear up asap." 
"I hope you did not tell your son you were giving me money to help me sort this out, because he might as well be him, I am not sure what is going on, but you have to be bold here as an adult and not let them treat you like a kid who don't know what she's doing."
Our comment:
We told the scammer that we made two attempts to pay the £637, and after a few days, he became very pushy, implying that we were too stupid to make the transfer and that we need to sort this out as soon as possible. He went on to say that he doesn't know if our relationship is strong enough for this. This was an attempt to get us to comply with his demands.
Bottom line:
We were not swept off our feet. We hope you won't be, either.
Editorial note: Our articles provide educational information for you. Our offerings may not cover or protect against every type of crime, fraud, or threat we write about. Our goal is to increase awareness about Cyber Safety. Please review complete Terms during enrollment or setup. Remember that no one can prevent all identity theft or cybercrime, and that LifeLock does not monitor all transactions at all businesses. The Norton and LifeLock brands are part of Gen Digital Inc. 
---